Of course there has to be a driver in an RC snow cat, otherwise it would be kind of a ghost vehicle. Fitting figures in scale 1:12 are available at Pistenking or also at doll stores. At the beginning we had to use dolls, but they are not featuring the right clothes for a snow cat driver. Therefore one has to ask his better half to take care of this. My wife Gerlinde made nice winter clothes with lots of dedication. 
Another problem is that the regular shoes of these dolls look nice with a tuxedo, so a change was necessary as well. We are hard-core fans of the VANS brand, and therefore our drivers had to have the same shoes. We choose VANS Sk8-Hi MTE with a PistenBully-red stripe, which are suitable for winter conditions. For the season 2013/14 the drivers also got new anoraks from VANS.
I made the VANS Sk8-Hi by hand with putty which can be hardened in an oven (left). Afterwards I made a mold with silicone, and then reproduced the shoes with white PU-resin. Finally they were painted (right).
These are pretty sure the smallest VANS shoes on the planet.
Of course there has to be a VANS sticker on the snow cats as well, which was reduced to the correct scale and printed.

At right one of our first drivers can be seen, he drives the PB600 Polar of Albert. My wife made the pullover and cap out of an old sweater.

Below left is our first driver ever, he got a beanie but otherwise he was left unchanged. 
The driver of Fabian's PB600 polar was taken care of by my sister Claudia. She made his Quiksilver outfit. (Picture below right)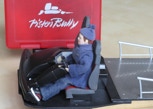 Naturally action figures are from well known movies or series, and ever Star Wars fan will know immediately who it is: Ezra Bridger, hero of Star Wars Rebels, has like every juvenile fun driving a PistenBully for a change. Of course his signature light saber has to be with him, just in case he has to defend himself against a Wampa attack (mid picture above). ;-)